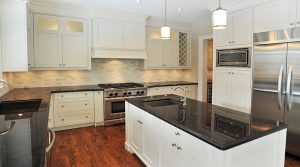 When homeowners  invest in new kitchen cabinetry doors they have two choices; wood or MDF, Medium Density Fibreboard. The common perception is that wood is the better choice; but is it? Wood is not always the best choice; as beautiful as it might be, wood has certain drawbacks that MDF does not.
Disadvantages of Solid Wood Cabinetry Doors
   * Solid wood is a practical material when used in the right places. It is ideal for most doors, as well as floors and furnishings. However, wood is not waterproof. As such, constant exposure to moisture will damage it.
   * Wood is a natural material; it expands and contracts with changes in humidity and temperature. Temperature and humidity variations are most prevalent in kitchens.
   * Wood is vulnerable to insect infestation.
The solution is MDF kitchen cabinetry doors. MDF is less costly than wood, strong, durable, and takes paint beautifully.
What is MDF?
Medium density fibreboard is an engineered building material. It is made using thin panels that are made from wood fiber and resin. MDF is superior to plywood; it is dense and durable.
Where Is MDF Used?
There are many uses for MDF; one of the most common uses is for kitchen cabinetry doors. MDF is also used as interior cabinet paneling.
MDF can be found in the bathroom for the same reasons. It does not warp or split when subjected to variable temperatures and high humidity. MDF is also a fire-retardant material; this makes it ideal for use in the kitchen. MDF is often used as kitchen shelving as the surface is smooth.
MDF is a good material for use as wainscoting. It is easy to machine. It can be custom milled to suit the style of the room.
If you are looking for MDF kitchen cabinetry doors, contact LOVECH Ltd. For more information on the products available, visit their website.